It's that amazing time of year again! Halloween is just around the corner, and we at Skulls Galaxy know exactly what gets your heartbeat racing with excitement. We have handpicked the newest and spookiest animatronics and outdoor Halloween decorations for 2023. Get ready to impress all your neighbors and create the most unforgettable scream scene ever!
Movie Monsters
Calling all movie buffs! You're going to love these animatronics that bring your favorite characters from the silver screen to life on Halloween night.
Sam Animatronic Decorations – Trick 'r Treat
Your beloved "Trick 'r Treater" is about to give your outdoor display an extra dose of creepiness! With interchangeable heads, you can choose the perfect addition to your scene and switch it up whenever you want. Make sure all the town trick-or-treaters follow Sam's rules, or they might face some serious consequences!
Pennywise Animatronic Decorations – It
Pennywise the Dancing Clown isn't here to dance; he's here to scare you senseless! Clowns have always been a source of fear for many, and Pennywise takes it to a whole new level. This animatronic will give you jump scares galore as he extends his body when you least expect it. Remember, "You'll float too!"
Scary Clowns
Say goodbye to friendly circuses because creepy clowns are taking over! Skulls Galaxy has a collection of new animatronics that will turn your home into a twisted and terrifying circus.
Waving Wally Animatronic – Decorations
Meet Waving Wally, the vintage clown who will send shivers down your spine. As an experienced circus greeter, Wally is the perfect animatronic to place at the entrance of your haunted house. His sinister stare and "welcoming" wave will make your guests think twice before entering. But don't worry, the scares only get worse as they delve deeper into our collection of clown animatronics. This is just the beginning…
Crouchy Animatronic – Decorations
Prepare to be terrified by Crouchy, an enormous clown with razor-sharp teeth and a bloodstained mouth. This animatronic shrugs his shoulders while his massive claws hang near his knees, waiting patiently to grab his next victim. There's no juggling act here, but he'll definitely make you vanish in no time.
Mr. Toots Animatronic – Decorations
Don't be fooled by Mr. Toots' cute appearance because he's anything but innocent! This retired clown thrives on driving like a maniac and taking down anyone or anything in his path. With his bump-and-go technology, he'll always find his way to open spaces and unsuspecting pedestrians. Hold onto your hats!
Tug-of-War Animatronic – Decorations
Prepare yourself for the ultimate clown nightmare! These two clowns are engaged in a horrifying tug-of-war with a terrified child. Don't get too close unless you want to be part of their twisted game. Keep your little ones away, or they might become the next victim in this battle of nightmares.
Clown Ferris Wheel Animatronic – Decorations
Watch in awe as the clowns spin round and round on this smaller-sized animatronic. Their faces will haunt you for years to come and fill your dreams with never-ending nightmares. A perfect addition to your circus-themed display that will leave everyone speechless.
Rotten Ringmaster Animatronic – Decorations
Okay, so he may not be a clown, but this rotten ringmaster escaped from the twisted circus! He has a wicked fascination with capturing innocent children and locking them up in monkey cages. From a distance, he may seem like a harmless character, but get too close, and you could be his next victim!
Scarecrows
Have you ever ventured into a cornfield at night? It's a sight that will make your heart race! Now you can bring that chilling experience to life with our exceptional scarecrow animatronic.
Jack Straw Animatronic – Decorations
We have handpicked the best scarecrow animatronic just for you. Jack Straw loves nothing more than scaring trespassers, and you could be his next victim if you're not careful. He may seem harmless, sitting quietly in his seat, but be prepared for a heart-stopping surprise when he jumps up unexpectedly. This scare is one you'll never see coming!
Creepy Dolls
Think creepy dolls couldn't get any creepier? Think again! Skulls Galaxy introduces you to a new addition to the creepy doll collection.
Abandoned Annie Animatronic – Decorations
With her tattered dress and jagged mouth, Abandoned Annie may not appear friendly at all. And truth be told, she isn't! While she longs for someone to play with, we strongly recommend keeping your distance. Her broken mouth can bite through anything that dares to get too close!
Undead Zombies
Don't be fooled by their lifeless appearance because these undead zombies are ready to spring into action and give you the fright you crave.
Tortured Torso Animatronic – Decorations
No one knows how Tom ended up sliced in half and suspended from a tree, but he has no intentions of setting himself free. Although you might think he's in distress, our advice is to avoid offering help. He loves feasting on anyone who tries to lend a hand. Hang this animatronic from a tree in your front yard and watch your guests gasp in horror as they approach.
Experimental Eddie Animatronic – Decorations
Eddie may have experienced an experiment gone wrong, but that's what makes him extremely dangerous. Wires are fused with his flesh, giving him an electrifying appearance that will shock anyone who lays eyes on him! This animatronic is perfect for those who live to push the boundaries of fear.
Blood Brothers Animatronic – Decorations
After an experiment left them with superhuman strength, these blood brothers have broken free from their chains. Don't stare for too long, or you might become their next target! This blood brothers animatronic is a must-have for your science lab-themed Halloween display.
Skeletons
These bone-chilling animatronics will add just the right amount of fright to your outdoor Halloween decorations!
The Collector Animatronic – Decorations
The Collector, an extra-large skeleton, seeks one thing and one thing only: SOULS. Towering over everything, this intimidating skeleton will steal your soul when you least expect it. With a keen sense of fear, he can detect it from miles away. Prepare to be amazed by this show-stopping animatronic that will have your guests talking for years to come.
Emperor of Souls Animatronic – Decorations
While the Collector takes your soul, the Emperor of Souls saves them and claims them as his own! Sitting regally on an intricate throne, this emperor brooks no refusal. For a truly majestic Halloween display, this animatronic is your best bet.
Creepy Creatures
Last but definitely not least, we present the creepiest of them all: our selection of creepy creatures!
Rusty Animatronic – Decorations
If you need a guardian for the entrance of your haunted house, Rusty is your best choice. He's spent years protecting his domain, and he won't let anyone pass without a scream! With interchangeable tools like a bucket and a chainsaw, you can choose the perfect weapon for this terrifying sentinel.
Bloodthirsty Betty Animatronic – Decorations
She's not quite human, and she's not quite a zombie. She's something far more sinister: Bloodthirsty Betty. Hang her on the wall or place her on the floor, and watch as her shaking body and jerky movements send shivers down everyone's spine. Prepare for the scare of a lifetime!
Demonic Dahlia Animatronic – Decorations
Demonic Dahlia is a dark creature that comes alive in the dead of night. Her mouth is slit from cheek to cheek, and her glossy white eyes are straight out of a horror movie. She may appear peaceful at first, but once you come too close, she will pounce and try to claim you as her own. Keep your distance if you want to stay safe!
Headless Help Animatronic – Decorations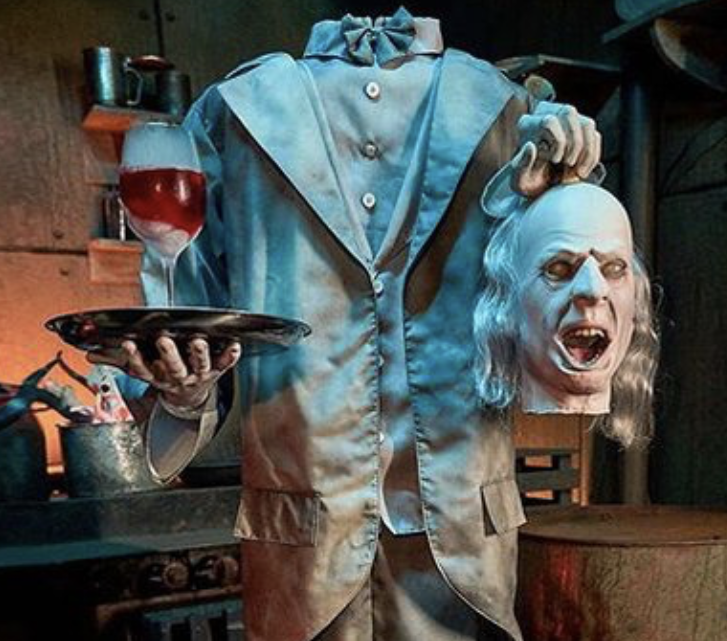 Imagine interacting with your guests without a head! This headless butler is here to make that dream come true. Equipped with a microphone, you can become the voice of this decapitated head. Let the animatronic speak its programmed phrases, and give your guests the scare of a lifetime. It's a Halloween experience they won't forget!
Graveyard Ghoul Animatronic – Decorations
Tombstone decorations have never been this cool! Behind the words, "I Shall Return," lies the buried groundskeeper of the cemetery. He was never fond of trespassers, and if you dare to walk on his grave, he'll rise from behind the tombstone and wreak havoc in an instant. Get ready for a spine-tingling encounter!
Arctic Dragon Animatronics – Decorations
Make your Halloween display truly legendary with this enormous dragon. Watch as it flaps its wings while LED lights create a terrifying spectacle. For an added touch of realism, hook this dragon up to a fog machine (sold separately) and create the illusion of a fire-breathing beast. Your neighbors won't believe their eyes!
Ring Around the Rosie Animatronic – Decorations
These cute little kids may deceive you at first, but as you draw closer, you'll change your mind. Standing in a chilling ritual circle, these children give a sinister twist to the classic song "Ring Around the Rosie." Place them in your front yard, and watch as everyone hesitates to come any closer.
Are you ready to bring your Halloween vision to life? Start shopping for Spirit Halloween Animatronics and outdoor Halloween decorations now, and create the most unforgettable Halloween scene your neighborhood has ever witnessed. Show off your setup by emailing us at Skulls Galaxy and you might even be featured in a future post.